Hastings Middle School, 201 N. Marian Road, (402) 461-7520
6th Grade:
---
First Day Fun
---
Bell Schedules
Hastings Middle School Bell Schedules


Click Here
---
Opening Week
Opening Week Schedule:
Thursday, August 13                     HMS Open House 6:30-7:30  
Friday, August 14                          Seventh and eighth graders only
                                                         from 8:10-2:35 
Monday, August 17                        Sixth graders only from 8:10-2:35
Tuesday, August 18                       All students report 8:10-2:35
Students will report to their homeroom after doors are opened at 8:05 a.m. on the first day.
For the 2015- 2016 school year classes will begin at 8:10 a.m.  We ask that students not
arrive at school before 7:50 in the morning and leave immediately following their last class
unless directly supervised by a teacher or coach.  All students must leave the school grounds by 3:50 unless directly supervised.
REGULAR SCHEDULE                          8:10 - 3:35
WEDNESDAY SCHEDULE                    8:10 - 2:34
---
Welcome to the HMS Garden!
Click below for a closer look at the HMS Garden:


http://letsgrowhms.wix.com/
hmsgarden
​
New Addition:
---
2015 Educator of the Year: Mr. Jayson Stoddard
HMS celebrates Mr. Stoddard at a school assembly!

---
Character Education: 8 KEYS
The

"Tireless Teacher Award"

was presented to the following teachers for their tireless efforts in school to help every student, every day:



Margaret Olsen


Kristen Slechta

Hilary Caldwell



Vicki Hesselgesser


Cody

Ochsner


Doug

Sejkora
---
Night of Excellence
---
NASSP Conference
These HMS educators recently traveled to San Diego to do a presentation about HMS at the National 

Asssocation

 of Secondary School Principal's (

NASSP

) Conference. They had about 200 people in their session where strategies and programs were shared with other educators. In turn, they listened to other schools present and were able to interact and ask questions about how they strive for success. 





L-R: Jayson Stoddard, Kristen 

Slechta

, Brooke O'Neill, 




Michele 

Kimle

, Tiffany 

Opperman

, and David 

Essink

.
---
Student Council
"Teacher of the Month"
Nominate a teacher who deserves celebration and appreciation.  Simply click below and type the reasons why he or she should be recognized.  Student Council members will read and vote.  Thank you!
Let's Celebrate:


September's Teacher:  Mr. Rosno
"Mr.Rosno makes learning fun and understandable. He gives great examples and resources. We play games that help and encourage us to study. He is an amazing teacher!"
October's Teacher:  Mr. Trindle
"He is one of the nicest teachers I've ever had. He makes learning fun. He does extra activities, such as coaching. He lead his team to an undefeated season."
November's Teacher:  Mrs. Hesselgesser
"She is very active and good with children. She is amazing, and I now love to read!"
December's Teacher:  Ms. Beach
"I think Mrs. Beach should be the teacher of the month because she is kind, patient, and positive every day. She makes math class fun and challenging."
January's Teacher:  Mr. Baptiste
"He is my absolute favorite teacher and makes class interesting and fun everyday!
Obviously, Mr. Baptiste deserves this honor."
February's Teacher:  Mrs. Northrop
"She is the greatest teacher because she is so nice.  She knows what it's like to be in middle school. She also tells AMAZING stories!
You also can have your opinion as long as you can back it up."
March's Teacher:  Mrs. Hoppe
"
Mrs Hoppe is an amazing teacher.  She also loves to read and knows how to get things done. I could go on and on about what she does to help us!"
April's Teacher: Mrs. Beave
"Mrs. Beave brings spunk into the classroom and lights up my day.

"
---
Oreo Sweepstakes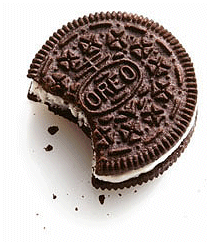 If you haven't heard about our OREO Sweepstakes you may want to ask your student.
Each week we ask a trivia question and usually a riddle to get a phone number to call. The first homeroom in each grade level that calls the correct phone number with the answer wins a box of Oreo Cookies!
---